When I saw Steampunk Garage's new kit Moonray Egyptian Cartouche, I knew I had to have it.  I've been obsessed with all things ancient Egypt since I was just a kid.
Not long after I completed my Etsy transaction to buy the kit and tutorial, I got my rings in the mail, and the kit in my email box. I glanced through the instructions and thought "Love it, but it doesn't look all that difficult!"
HA!  How foolish that was in retrospect.
I sorted out the rings and lined them up. (I also labeled them because there were lots of different sizes and some of them were pretty close in size and I didn't want to mess them up.)
At first, it WAS easy.  I mean, just follow the instructions, which are super clear and concise.  Then I got to The Bugger Rings.  #1 was easy – deceptively so.  #2 was a little tougher.
#3 was again deceptively easy.  Not as easy as #1, but still not terrible.
Then I tried to put the 4th ring in that same spot.  THERE WAS NO OPENING.  I swear.  And of course the instructions say "I know you are going to tell me 'there's no opening', but there is."  There was vast amounts of cursing, manipulations, I even stuck a T-pin in at one point to try to get it to budge just a wee bit more.
Then I gave up.  Well, I didn't really give up, I just took a break.  For about an hour, I sorted stones and put them away and did a couple of other housekeeping things in the studio (even a month after the move I'm still re-arranging and cleaning stuff up!)
I went back to it, and sweet talked that ring in…1/2 way.  Then I sweet talked it some more, and wiggled it until the end popped out where it was supposed to.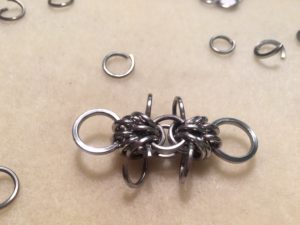 I literally yelled "YESSSSS" and cackled madly.  I think the guy in the studio next to me was probably questioning my sanity or at least what I was up to.
The rest of the pendant was relatively easy to finish.  And I LOVE it.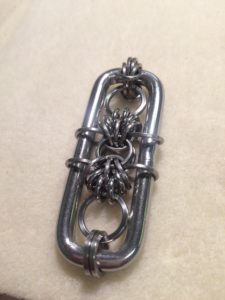 Hubby says I look like a Grandma Rapper with my bling.  I'm keeping this one as MINE.