Periodically I get asked what my work space looks like.  Well, it's a mess!  I do sort of know where everything is, or at least where it should be.  Too many times, it's right in front of my face, on the bench somewhere.
I've actually got two work benches.  One is for "hot" – soldering, pickle, but also do most of my forging, sawing, drilling, and polishing on this bench.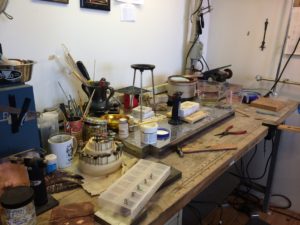 The other bench is my "cold" bench – I do most of my maille work here, as well as sketching and designing.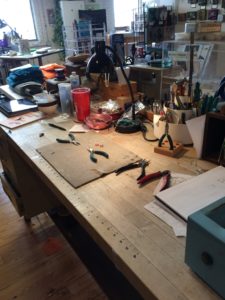 With both of them, I "built in" rulers across the bottom, marking off inch and 1/2 inch increments.  Saves me a lot of time searching for a ruler.  Although I do know exactly where those are!
I probably have too much junk on my benches – bowls full of tumbled stones, dishes with scraps of metal and in-progress projects.  I really don't think it distracts me too much though. Sometimes having that "thing" sitting in front of me will make me pick it up and re-think how to use it.
If you see anything that you want to ask about, whether it's a tool or piece of work, let me know in the comments!